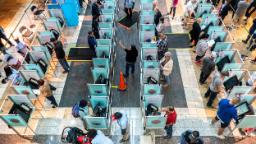 Democrats are hoping to hold on to power, while Republicans yearn to gain control of both the House and the Senate. And while we all have guesses of what will happen, the truth is that we don't know what will play out. 
With that uncertainty in mind, here are three different scenarios that could be key to how the battle for control shakes out. 
Georgia runoff determines Senate If you follow politics to any degree, you certainly have. Unlike other states with close Senate races, Georgia requires candidates to receive a majority of the vote to win on Election Day. If no candidate does, then a runoff between the top two candidates is held in December. 
The conditions are fairly ripe for such a scenario. Neither Democratic Sen. Raphael Warnock nor Republican Herschel Walker is at 50% in the Georgia Senate polls. Libertarian Chase Oliver is pulling in 3% to 4%. 
If every other race goes exactly as the polls predict, Democrats will have 49 seats, not including Georgia. Republicans will have 50 seats. This means that whichever side wins in Georgia would control the Senate. 
The Senate actually gets projected early Then there's the other side of the spectrum. Most people are anticipating that we won't know who wins the Senate until days, if not weeks, after Election Day. That may be the case, but it's far from a certainty. 
There are a few ways we could conceivably get a fairly fast call. The easiest way for it to happen is if the Republicans win both Georgia (with a majority to avoid a runoff) and Pennsylvania. That way, we're probably not reliant on what could be longer counts in Arizona and Nevada. 
Another way this might happen is if there is a surprising result in the east. If Republicans have a very good night, they could win the New Hampshire Senate race, where Democratic Sen. Maggie Hassan is running for reelection against Republican Don Bolduc. If Democrats have a very good night, they could win the Ohio Senate race, an open seat where Democratic Rep. Tim Ryan is facing off with Trump-endorsed J.D. Vance. 
An early call of the House  Just weeks ago, the race for both the House and Senate looked close. While the Senate still does, it's easy to see how the House could turn into a relative blowout. 
If that happens, we won't have to wait for the West Coast. We won't have to wait for the results from ranked-choice voting races. 
Instead, we'll get a pretty good idea from even the earliest of poll closings. Consider a race like that for Virginia's 2nd District, a swing district centered in Virginia Beach. Rep. Elaine Luria would likely win if Democrats are to be competitive in the House. If she's defeated, Republicans are probably on their way to House control. 
If it's a big Republican night, we could also see Democratic Rep. Frank Mrvan go down in Indiana. Indiana, unlike a lot of other states, requires voters to have an excuse to vote absentee. 
The bottom line is that if Republicans end up with close to 240 seats (as they did in 2010), then the race for House control won't be drawn out. 
Read more potential Election Day scenarios here.