Computer games and clothes lift UK inflation to 0.6% – business live | Business
cramzine
0 Comments
Business, Clothes, Computer, Coronavirus outbreak, Economics, FTSE, Games, Inflation, lift, live, Stock markets
The Covid-19 pandemic is forcing luxury goods maker Burberry to cut 500 jobs worldwide, including 150 in its UK head office, in a £55m cost-cutting push.
Burberry wielding the axe after suffering a slump in sales during the coronavirus pandemic.
My colleague Sarah Butler explains:



Retail sales dived by 48% in the three months to the end of June, including a 75% fall in Europe and the Middle East, as countries closed shops and offices and severely limited travel to control the spread of Covid-19.

Burberry said it would keep its headquarters in the UK but would "further streamline" head office roles, reduce office space and "improve retail efficiency" outside the UK. The company said it wanted to reinvest the savings in marketing activities including pop-up stores, digital campaigns, events and improved store displays.

The £55m in savings come on top of £140m of cost cuts already announced.
Shares in Burberry have slumped by 6%, after the firm also warned "it will take time" for sales to return to pre-crisis levels.
TUC General Secretary Frances O'Grady reckons inflation is so low because people are too worried about their job prospects to spend:



"It's no surprise that inflation is low when people are afraid to spend because their job doesn't feel safe.

"The chancellor must go all out to push back the rising tide of job losses. Businesses in the hardest-hit sectors need greater government support to stop them going under.

"And by fast-tracking infrastructure projects, the chancellor could inject £85 billion of investment into local economies across the UK. This would create 1.24 million jobs delivering faster broadband, green technology, modern transport and housing."
The government's temporary discount on meals at restaurants, pubs and cafes will also pull inflation lower this summer, Capital Economics predicts:
Although inflation picked up in June, it's still close to its lowest level in four years.
The Financial Times suspects weak consumer demand will pull prices down again:



Rising prices for clothes, footwear and in recreational and culture activities such as computer games drove up the rate of inflation, but it was offset by falling costs of food, hotels and restaurants.

The nationwide shutdown imposed to prevent the spread of coronavirus has sent inflation plummeting, from 1.5 per cent in March to 0.8 per cent in April. The Bank of England's target is 2 per cent.

With wage growth forecast to remain low in a slowly reopening economy, and many businesses dropping prices to attract customers, economists have forecast that inflation is likely to slow further. Some have predicted a near-zero rate in the coming months.
Ed Monk, associate director for Personal Investing at Fidelity International, explains how computer games prices nudged inflation up last month:



"All those extra hours at home in lockdown have fed through to the inflation data, with higher demand for computer and console gaming helping to edge the headline rate higher in June. CPI now stands at 0.6%, up from 0.5% in May and halting the trend of falling inflation this year.

"'Recreation and culture' was the category that added most to the overall rate last month, including computer game and console prices which rose 1.8% annually. This time a year ago the price of gaming was falling by 4.7%.
UK fuel costs also remained low last month… although millions of people under lockdown won't have really benefited.
Average petrol prices stood at 106.5 pence per litre in June 2020, slightly higher than May's four-year low. Average diesel prices were 112.7 pence per litre in June, the lowest since August 2016, the Office for National Statistics reports.
That reflects weak demand from drivers, as well as the tumble in crude oil costs since the pandemic floored the global economy.
UK inflation: What the economists say
Despite the pick-up in consumer prices in June, City economists don't expect inflation to keep rising.
Paul Dales of Capital Economics predicts that inflation could fall below zero this summer, as retailers try to lure anxious consumers to spend.



Inflation in all major core categories except restaurants and hotels fell, with the increase in clothing inflation (from -3.1% in May to -2.2% in June) and the rise in recreation and culture inflation (from +2.0% to +2.6%) making the largest contributions. We are not convinced either will be sustained.

We suspect that after the initial release of pent up demand once non-essential retailers opened in mid-June, retailers will have to use heavier discounts to get people through the doors. And a large part of the rise in recreation and culture was due to a jump in games, toys and hobbies inflation from +1.0% to +7.9%, which bounces around at the best of times.
Samuel Tombs of Pantheon Economics also predicts CPI will fall back:
KPMG chief economist Yael Selfin points out that inflation is still well below the UK's target of 2% – meaning central bankers could launch more stimulus measures.



Muted inflation paves the way for further action from the Bank of England as economic activity remains anaemic
This chart shows which items pushed the UK inflation rate up last month (mainly clothes and games) and which pulled it down (mainly food).
Crisps and muffins became cheaper
Vegetables became a little cheaper last month.
Deliciously, that includes expensive crisps – meaning gamers can offset rising console prices by tucking in.
Today's inflation report shows that food and non-alcoholic beverage prices fell by 0.6% this year, compared with a rise of 0.1% a year ago.
The ONS says:



The effect comprised small movements from a variety of product groups, with the largest (of 0.03 percentage points) coming from vegetables. The largest individual downward contribution in this category came from premium potato crisps, reversing the upward contribution observed between April and May.
Restaurant and hotel prices also fell — which the ONS partly attributes to "muffins and individual cakes".
Jonathan Athow, deputy national statistician at the ONS, explains why UK inflation inched up last month:



The inflation rate has increased for the first time this year, but remains low by historical standards

"Due to the impact of the coronavirus, clothing prices have not followed the usual seasonal pattern this year, with the normal falls due to the start of the summer sales failing to materialise.

"Prices for computer games and consoles have risen, but food prices, particularly vegetables, have fallen."
Introduction: Computer games lift UK inflation rises to 0.6%
Good morning, and welcome to our rolling coverage of the world economy, the financial markets, the eurozone and business.
Inflation across the UK has risen for the first time since the Covid-19 pandemic began, as the lockdown pushed up the cost of computer games and forced clothes retailers to delay the usual summer sales season.
The Office for National Statistics has just reported that consumer prices rose by 0.6% in June, compared to a year ago. That surprised economists who expected a fall to 0.4%. It's the first increase in the CPI since January.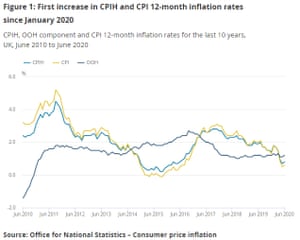 The ONS says:
On clothing….the upward contribution to the change in the rate between May and June comes from across almost the full range of men's clothing, while women's clothing shows a more mixed picture across the different products but with the overall effect still upward.
For computer games and computer games consoles, Prices in this category overall rose by 1.8% this year, compared with a fall of 4.7% a year ago.
This shows the impact of the coronavirus lockdown on the UK economy. In normal times, clothing retailers would have been holding summer sales in June – rather than gingerly reopening.
The ONS explains:



Price movements this year have not followed the normal seasonal pattern. In recent years, prices have generally risen between January and May before the summer sales season starts in June
And on computer games, the ONS suspects that prices may have risen as people scrambled to find entertainment during the lockdown:



It is possible that prices have been influenced by the coronavirus (COVID-19) lockdown changing the timing of demand and the availability of some items, particularly consoles. However, it is equally likely to be a result of the computer games in the bestseller charts.

Price movements for computer games can often be relatively large depending on the composition of these charts.
More details and reaction to follow….
Also coming up today
One of the Bank of England's external members, professor Silvana Tenreyro, is speaking about the impact of Covid-19 on the UK economy this morning (as it suffers its worst slump in centuries)
European stock markets are set for a strong session, on hopes that the coronavirus crisis will ease.
Last night, US biotech firm Moderna reported that its potential Covid-19 vaccine had produced immune responses in patients in the early stage trial.
New manufacturing output data and oil inventory figures from the US will show how its economy is faring.
Luxury goods maker Burberry, online fashion site ASOS and electricals retailer Dixons Carphone are all reporting results (more on that shortly too)
The agenda
7am BST: UK inflation report for June
9am BST: Bank of England policymaker Silvana Tenreyro gives a speech on: Covid-19 and the economy: what are the lessons so far?
2.15pm BST: US industrial production for June
3.30pm BST: US weekly oil inventory figures
Updated