Green Peach Smoothie for Kids
The tastiest green peach smoothie you'll ever have! Peaches, banana, almond milk and spinach to make it bright green and super healthy. Your kids will love this!
Green and Sweet
I used to be afraid of green smoothies. That's right–me! It wasn't until two years ago that I decided to take the plunge and wow was I missing out!  Ever since, I've have at least five green smoothies a week! They're quick and easy to make and it's a great way to get your leafy greens.  But it's true, if you don't know what you're doing you can put in too much spinach or kale and not enough fruit to get the right balance, but that's why it's good to start with a recipe.  This recipe is delicious and I've made it every day since! I ran out of peaches and made it with just bananas and it was still amazing!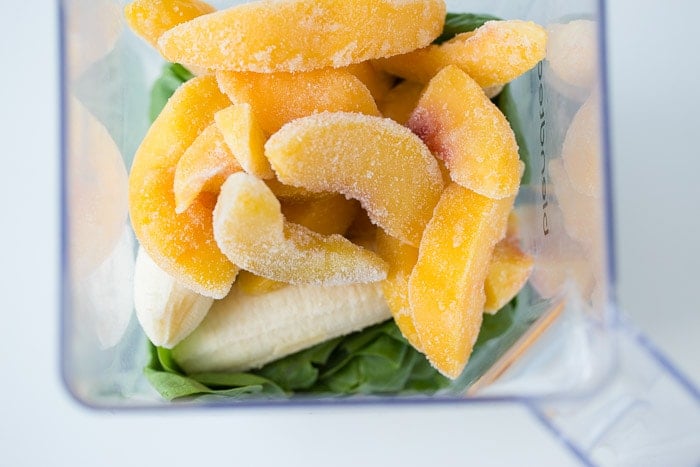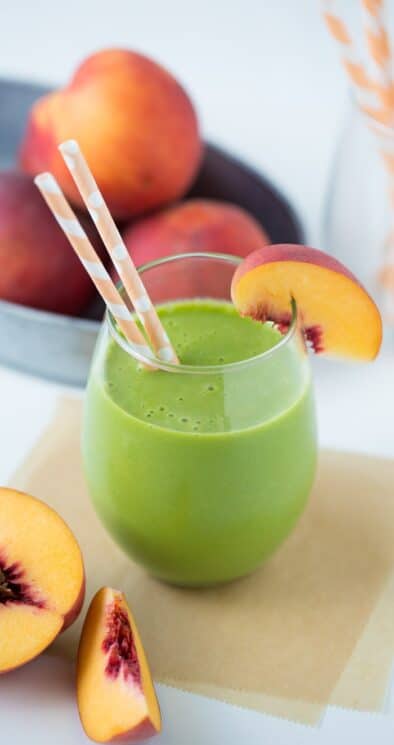 Need More Protein?
I put the option of adding greek yogurt in the recipe in case you need to add some more protein as an after soccer practice boost.  You can also swap out the almond milk for dairy milk, cashew milk or something else that you have in the fridge.  It makes a perfect breakfast on the go as well! I like to drink mine in a plastic tumbler with a straw on my way to meetings in the morning.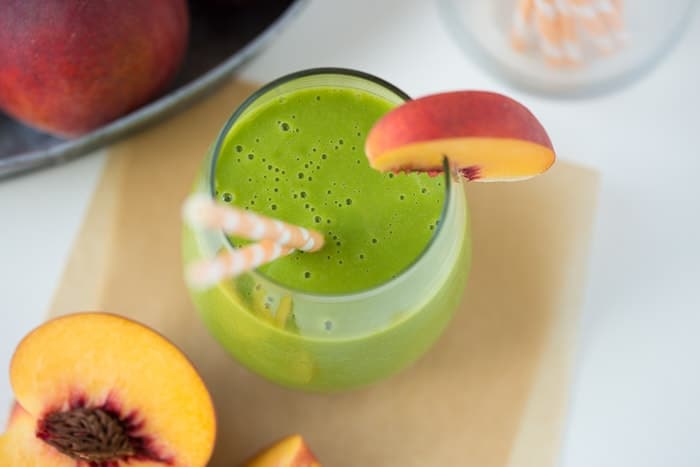 Plan Ahead
If you love this recipe as much as I do, stock up on fresh peaches from Costco or anywhere else you may get them on sale!  You can slice them up at home and freeze them yourself so you can save a few pennies and make this smoothie all year long.  If you want to make it even sweeter, add a few pieces of pineapple! 
Check out our favorite 5 Summer Smoothies for more recipe ideas to keep cool during these hot summer days!  
1

cup

almond milk, unsweetened

2

cup

spinach

1

medium

banana

1 1/2

cup

peaches, frozen, sliced

1

container (4 oz)

Greek Yogurt
Calories: 197kcal | Carbohydrates: 37g | Protein: 11g | Fat: 3g | Saturated Fat: 1g | Cholesterol: 6mg | Sodium: 138mg | Fiber: 4g | Sugar: 24g