Not many things can top a warm, buttery homemade roll. These soft, fluffy, melt-in-your-mouth dinner rolls will beat anything you can buy at the bakery! Our simple recipe will have even beginner bread makers delivering perfect rolls that will be the star of every dinner table.
Why We Love Homemade Dinner Rolls
There are not many foods out there as delicious and satisfying as homemade bread. It's the ultimate comfort food and the smell of baking bread is absolutely heavenly! And while it does take a bit of time, it really is so easy.. and totally worth the effort. It is the perfect accompaniment to so many meals and leftovers freeze great!
The Ingredients:
warm water
powdered milk
yeast
sugar
salt
butter
egg
flour
How to Make the Best Homemade Rolls
This recipe calls for an enriched dough- that means we added enrichments such as sugar, eggs, butter and milk. This is the secret to a soft, fluffy roll.
Make sure you are measuring your ingredients accurately. This can make the difference between a soft fluffy dinner role, and a hockey puck.
Don't over-flour! Stop adding flour right when your dough comes together. When you are rolling out, use just as much as you need to prevent the dough from sticking to the surface, but no more. Too much flour will produce a dense roll.
Make sure you are giving your dough enough time to proof! This is essential for great flavor and in creating the texture you are looking for in a fluffy dinner roll. Enriched doughs can take longer to proof, and the temperature of your kitchen will affect your proving time as well. Let your dough rise until it is doubled in size, or when you poke it the dough holds a slight indentation and slowly starts to spring back.
Don't under bake! Make sure you get your rolls good and golden. Adding an egg wash or brushing with butter before baking will help you get a nice, even, golden color.
How to Shape Dinner Rolls
For these rolls we rolled out the dough into a rectangle, used a pizza cutter to cut it into squares, and then rolled the squares up and spread them out on a greased baking sheet. This creates a lovely pull-apart quality and allows your rolls to get nice and brown all over. However, you really can shape it however you want!
Basic Round Rolls: Divide the dough into however many pieces you would like. Use the palm or your hand to shape the dough into a ball while tucking the ends into the center. Bake in a 13×9 inch pan.
Cloverleaf Rolls: After dividing your dough into the number of rolls you want, cut each of those into three pieces. Roll the smaller pieces into balls and put all three in a single muffin tin. Repeat with the remaining dough balls.
Knotted Rolls: Roll each piece of dough into a rope. Carefully tie the dough into a knot and tuck the ends underneath before placing on baking sheet.
Crescent Rolls: Roll the dough into a circle. Using a pizza cutter, cut the dough into wedges like you are slicing a pizza. Roll each wedge up, starting from the wide end. Place on a baking sheet and and gently roll into a curved shape before baking.
Parker House Rolls: Roll out the dough and use a biscuit cutter to cut into rounds. Use a butter knife to make an off-center crease on each round and fold in half before baking.
How to Store and Reheat Dinner Rolls
Leftover rolls can be stored in a sealed bag at room temperature 2-3 days. For longer storage, wrap the rolls in foil and place in a ziplock freezer bag. When you're ready to eat them, remove the rolls from the bag. Place the foil wrapped rolls in a 300 degree oven for 10 minutes. Rolls will last about a month in the freezer.
More Delicious Bread Recipes: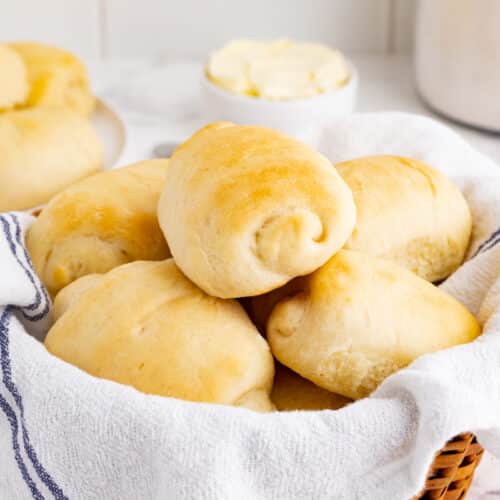 2

cups

warm water

2/3

cup

powdered milk

2

tablespoon

yeast, active dry

1/4

cup

sugar

2

teaspoons

salt

1/3

cups

butter, unsalted

softened

1

large

egg

5-6

cups

flour

all-purpose or bread flour

1

tablespoon

oil
In a large bowl, or mixer bowl combine 2 cups WARM water and the powdered milk and whisk so the milk dissolves.  Add the yeast to this mixture while water and milk is still warm. Let yeast start to bubble for a few minutes (about 3-5).

Add sugar, salt, butter, egg and 2 cups of the flour. Use the dough hook on your mixer and mix on low speed until ingredients are wet, then turn to medium speed and mix for 2 minutes. Stop the mixer and add 2 more cups of flour (now 4 cups total flour added so far) then mix on low speed until the ingredients are wet, then turn mixer on medium speed and mix for 2 more minutes.

Add approximately 1/2- 1 cup of flour and mix again. If you are using bread flour, you will likely need to add the full cup of flour. The dough should be soft, not overly sticky, and not stiff. Add more flour if necessary so it's easy enough to handle without sticking to your hands or mixer.  

Scrape the dough off the sides of the bowl and pour one tablespoon of canola oil all around the sides of the bowl. Turn the dough over in the bowl so it is covered with the oil. Cover with a kitchen towel or plastic wrap and allow to rise in a warm place until double in size. (about 1 hour)

Once the dough has risen, sprinkle a clean counter with flour and put the dough on the flour.  If your dough feels overly sticky, sprinkle flour on the dough so that it is workable and not sticky.  Roll out into a large rectangle, about 12 inches by 8 inches.

With a pizza cutter, cut down the middle horizontally, and then cut all the way across vertically into 2 inch strips. Cut each half horizontally again so that you have 24 'strips' of dough that are each about 2″ x 4″ (about the size of a dollar bill)

Grease a baking sheet, or cover with parchment. Roll up each slice of dough starting from one end to the other (kind of like rolling up a rug) and place seam side down on your prepared baking sheet. Cover again and let rise for about 30 minutes or until they have doubled in size.

Preheat oven to 375 degrees.  Remove cover and bake in preheated oven for 10-15 minutes.
Calories: 197kcal | Carbohydrates: 32g | Protein: 6g | Fat: 5g | Saturated Fat: 3g | Polyunsaturated Fat: 1g | Monounsaturated Fat: 2g | Trans Fat: 0.1g | Cholesterol: 22mg | Sodium: 315mg | Potassium: 117mg | Fiber: 1g | Sugar: 5g | Vitamin A: 128IU | Vitamin C: 0.3mg | Calcium: 62mg | Iron: 2mg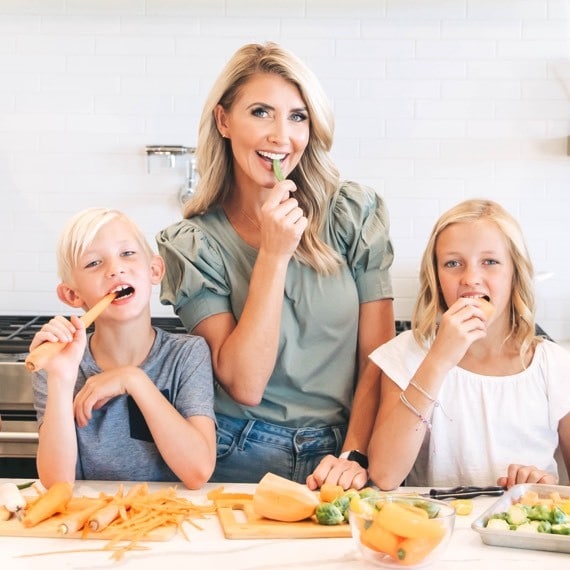 Natalie Monson
I'm a registered dietitian, mom of 4, avid lover of food and strong promoter of healthy habits. Here you will find lots of delicious recipes full of fruits and veggies, tips for getting your kids to eat better and become intuitive eaters and lots of resources for feeding your family.