These are hands down the best tasting Brussel sprouts you will ever make. Fresh, healthy Brussels sprouts cooked until caramelized, crispy chopped bacon, sweet chewy cranberries all drizzled with honey for the most delicious veggie side dish.
The BEST Brussels Sprout Recipe Ever
Did you know kids can LOVE Brussels sprouts? Not just tolerate them, or like them… but really love them, in that "Can I have more please?" way that you thought was only reserved for mac and cheese.
If that seems far-fetched, then you've come to the right recipe. Because these Brussels sprouts are the ones that can turn it all around. These cutie cabbages have crispy buttery exteriors, tender-crisp interiors, and the delicious yin and yang of savory crispy bacon and sweet chewy cranberries.
You'll find that this recipe comes together very very quickly, especially if you can manage to squirrel away a couple of slices of cooked bacon ahead of time. So you can saute up these sprouts any old weeknight to serve alongside simple chicken, rice, or pasta. With its bright red and green colors, this recipe impresses as a holiday side dish, too.
One tip to remember: Brussels sprouts come into season in the fall and taste their freshest during the chilly winter months. (Sometimes you can even find them at the store attached to their two-foot long stalk! Trader Joe's sells them like this. Plus ten points on the fun scale.)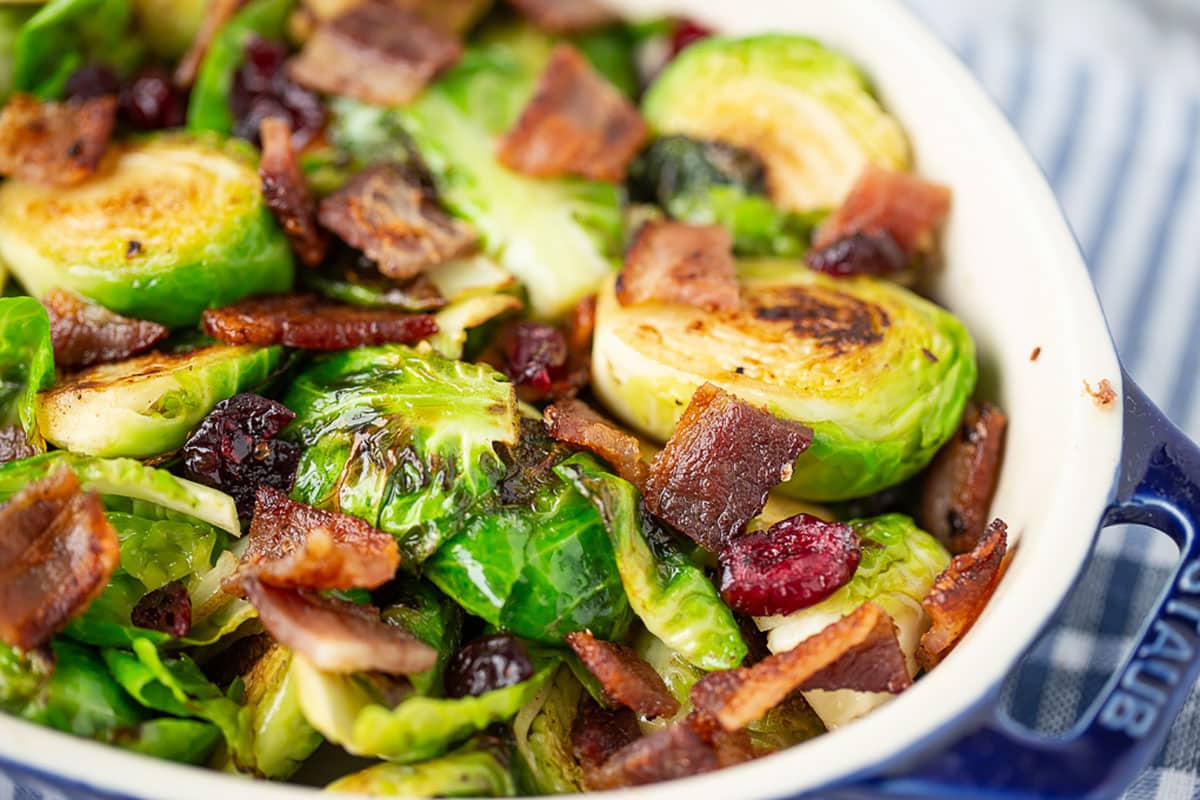 How to Cook the Perfect Brussels Sprouts
Brussels sprouts can seem intimidating if you're not used to cooking them. You might be thinking, OK, got the mini cabbages in my fridge, now what?
Even though Brussels sprouts are fairly easy to cook, there's a little bit of technique required to really coax out the best tastes and textures from this veggie. (Ever tried the dreaded olive-drab spheres of mush also known as steam-table Brussels sprouts? Then you know why cooking them properly is important.)
Here's a list of techniques and trouble-shooting tips to help you become a pro at cooking this tasty veggie.
Give your sprouts enough room to spread out in the pan. You don't want to overcrowd them, or else some sprouts won't get those nice caramelized edges you're going for.
Don't discard outer leaves that fall off when you're slicing the sprouts. Some of the most delightful bites of well-cooked Brussels sprouts are the crispy individual leaves that break off the heads. So toss those babies right in the pan. (If you really love crispy sprout leaves, you've gotta try Brussels Sprout Chips.)
Keep the heat on the lower side. Brussels sprouts actually have a fairly high carb content for a veggie, so they brown quickly on the outsides. Keep the heat on medium to prevent over-browning while cooked on the inside.
Test your sprouts for tenderness before you serve. Sometimes this veggie can look perfectly golden-brown on the outside, but the heat from the pan hasn't penetrated into the center, and it'll be too tough and crunchy to bite into. Test one with a fork to make sure. And if they're not…
Don't be afraid to braise. To quickly tenderize Brussels sprouts that just aren't getting the hint, add just a tablespoon or two of water to the pan, and cover for one or two minutes. That hit of steam often does the trick.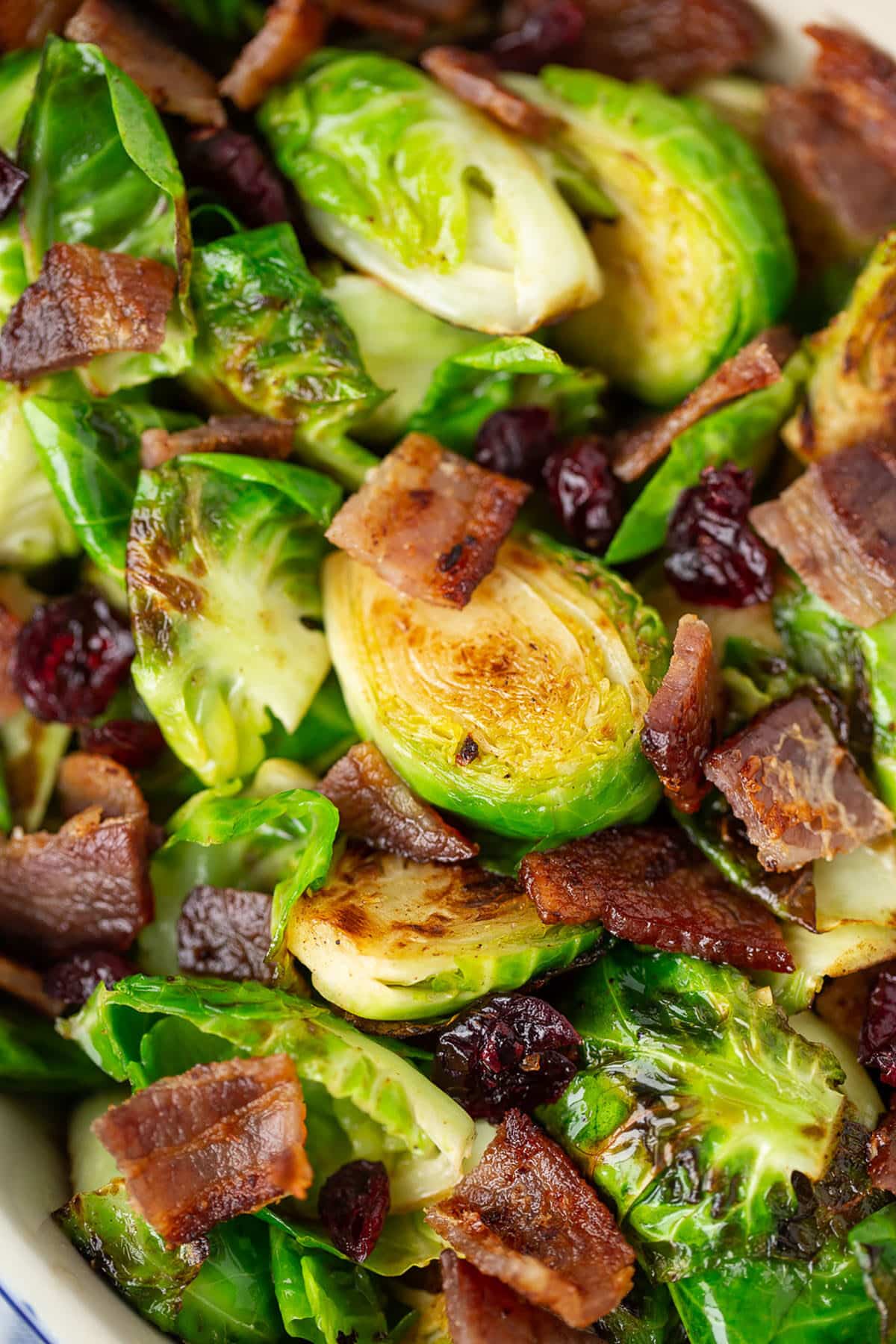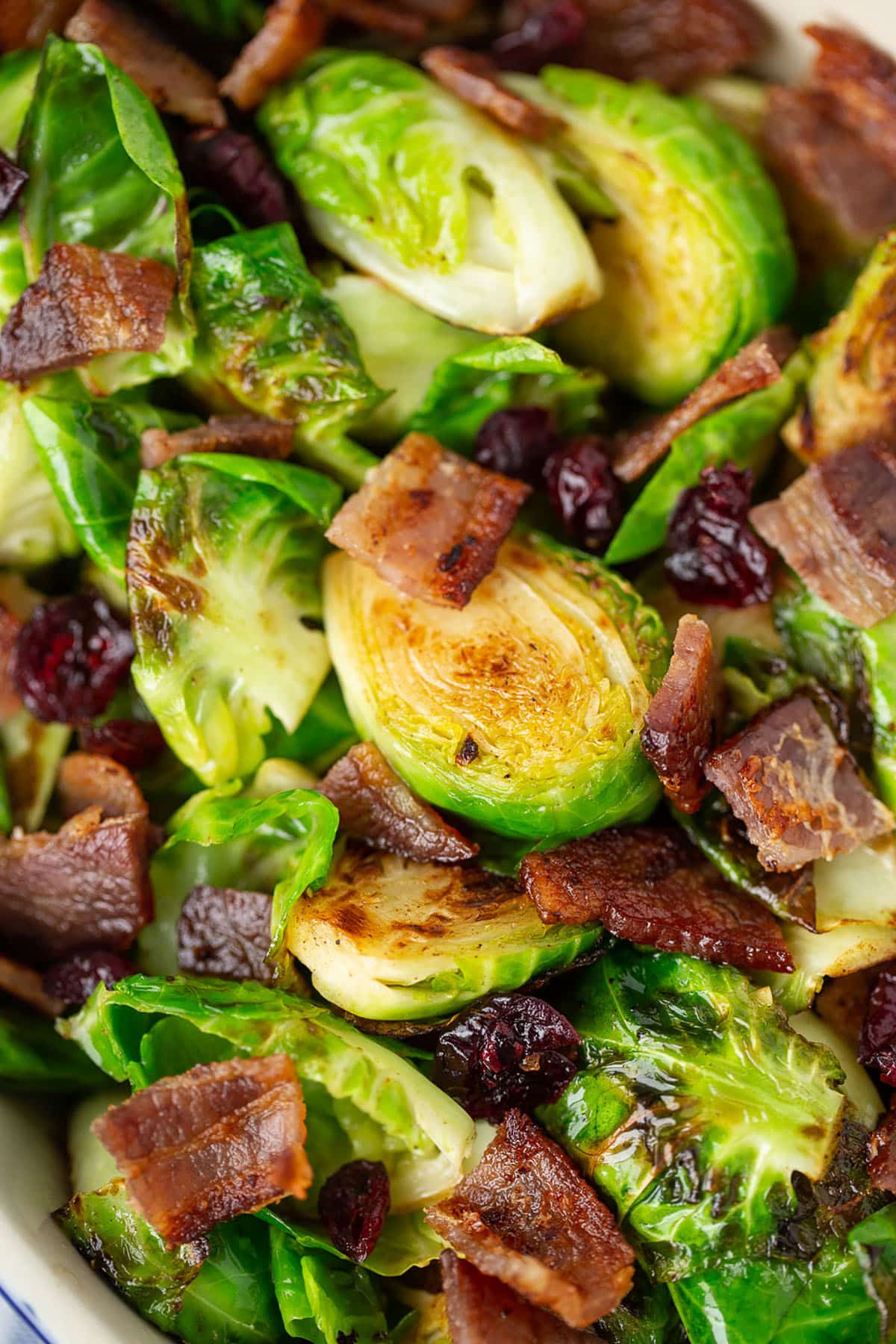 What Makes Brussels Sprouts So Good for You?
Brussels sprouts belong to the family of cruciferous vegetables (others include broccoli, kale, and cabbage,) and this is a super high-achieving family when it comes to nutrition.
These veggies are rich in fiber, Vitamin K for healthy bones, and Vitamin C for a strong immune system. The antioxidants in Brussels sprouts may calm inflammation in our cells.
Like other cruciferous veggies, Brussels sprouts help maintain healthy blood sugar. Brussels sprouts also happen to be one of the best plant sources of omega-3 fatty acids, an important nutrient that's usually found in fish.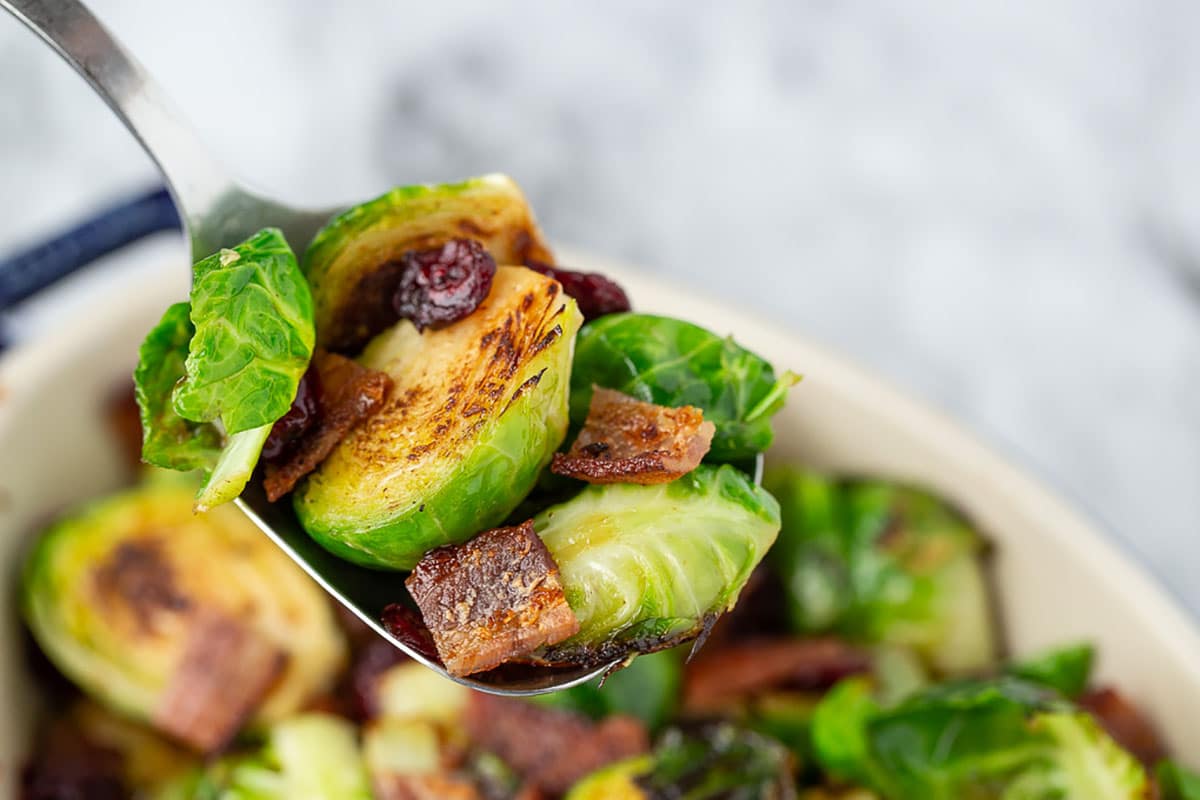 Why I Love this Brussels Sprouts Recipe
What makes this recipe so much better than just regular roasted Brussels sprouts? We've taken three ingredients with loads of kid appeal, and built them into one healthy side dish.
Crispy pieces of bacon? Check. Sweetened dried cranberries? Check. Good old fashioned butter? Totally checkin' that box too.
Encourage your kids to try a bite that has a little bit of everything in it at the same time (you might need to cut up their sprouts for younger kids.)
And remember this other tip to help your kids move towards greater food acceptance skills: let your kids see YOU love these Brussels sprouts. Talk about the different tastes and textures of the dish, and compare the food to something they might have tried and liked before.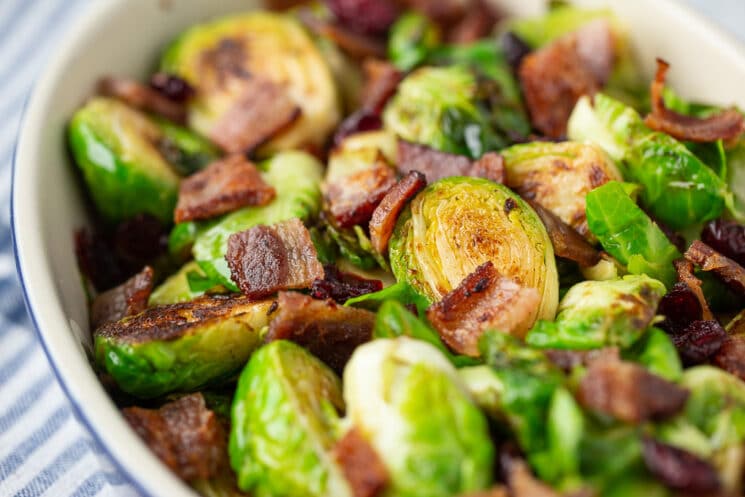 More Love for Brussels Sprouts
If this recipe is a hit for your family, try these other tasty recipes featuring this delicious veggie: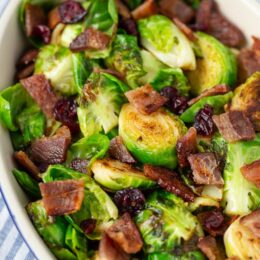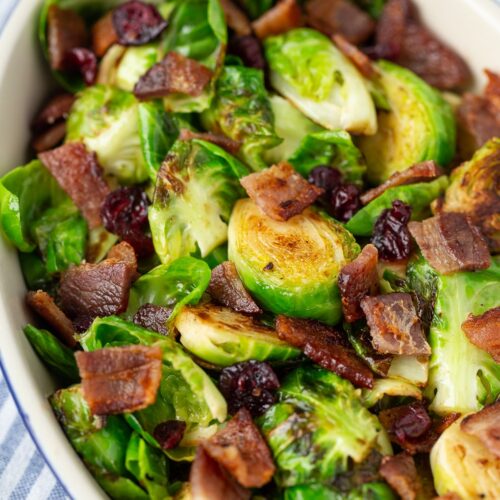 1

pound

fresh Brussels sprouts

trimmed and halved

2

tbsp

butter

5

slices

bacon

thick cut

1/4

cup

dried cranberries

1

tablespoon

honey

salt and pepper to taste
Melt butter in a medium saute pan over medium heat.

Cut bacon into small pieces and add to pan. Cook for 2-3 minutes. They do not need to be crispy at this point. They will continue to crisp as the Brussels sprouts cook.

Add Brussels sprouts to the pan, trying to place them cut side down. Let them cook without moving over medium heat for 8-10 minutes, or until they turn a golden brown color on the cut side and are fork tender throughout. If they start to get too browned, turn the heat down just a bit. Season with salt and pepper.

When the Brussels are done, remove from heat and sprinkle craisins over the pan. Drizzle honey over everything. Season with more salt and pepper to taste. Serve warm.
Calories: 139kcal | Carbohydrates: 23g | Protein: 6g | Fat: 5g | Saturated Fat: 3g | Polyunsaturated Fat: 0.4g | Monounsaturated Fat: 1g | Trans Fat: 0.2g | Cholesterol: 11mg | Sodium: 98mg | Potassium: 595mg | Fiber: 6g | Sugar: 13g | Vitamin A: 1257IU | Vitamin C: 129mg | Calcium: 65mg | Iron: 2mg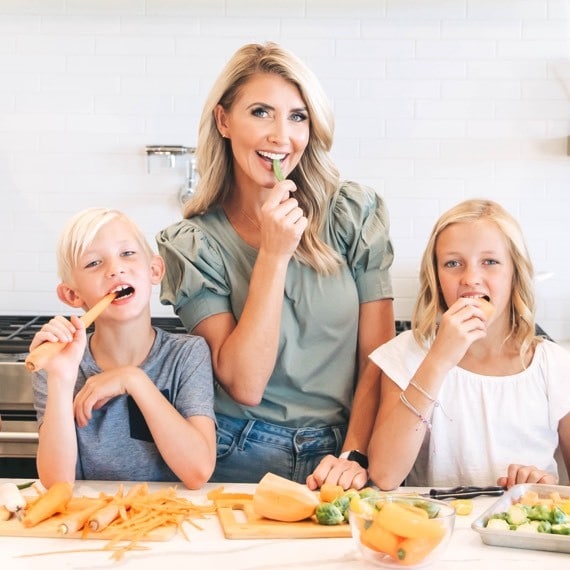 Natalie Monson
I'm a registered dietitian, mom of 4, avid lover of food and strong promoter of healthy habits. Here you will find lots of delicious recipes full of fruits and veggies, tips for getting your kids to eat better and become intuitive eaters and lots of resources for feeding your family.