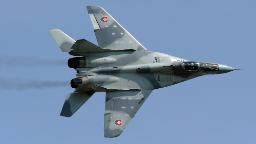 A US surveillance drone is operating over the Black Sea, according to data from FlightRadar24, a flight tracking website. 
The RQ-4 Global Hawk is seen flying at 52,000 feet over the southern Black Sea. Its flight track shows that it entered international airspace over the Black Sea from Romania and traversed from west to east. According to FlightRadar24 data, the flight track shows the drone operating in international airspace southeast of Crimea and west of the Russian coastal city of Sochi. 
Asked at a news conference Thursday when the US would fly drone missions again, Pentagon press secretary Brig. Gen. Pat Ryder said, "I'm not going to get into talking about specific missions, routes, timelines of operations. I think Secretary [Lloyd] Austin was pretty clear that we're going to continue to fly and operate in international airspace where international law allows, and that includes the Black Sea region."
Some background: The RQ-4 Global Hawk is a spy drone capable of high-altitude, long-endurance missions with a suite of surveillance and intelligence gathering capabilities. It has a wingspan of 130 feet and a maximum takeoff weight of 32,000 pounds, making it far larger than the MQ-9 Reaper that went down on Tuesday. 
On Thursday, CNN reported that the US was conducting an assessment of drone operations over the Black Sea following a collision between a Russian fighter jet and a US spy drone that forced the drone down.
The US military was "taking a close look" at the drone's routes and assessing how to better deconflict with the Russians, who have been regularly flying their fighter jets in and out of Crimea, officials said. The Pentagon has asked European Command to justify surveillance flights in the area going forward in part to assess risk, a senior US military official said.
The US military had not stopped the drone flights entirely amid the assessment. The military sent the same model of drone, an MQ-9 Reaper, on a mission in approximately the same area over the Black Sea shortly after the collision occurred in an effort to survey the crash site and monitor Russians looking for the debris.