Markets fall back as Covid-19 fears mount and US jobless claims rise – business live | Business
cramzine
0 Comments
Business, claims, Covid19, Economics, Fall, Fears, FTSE, jobless, live, markets, Mount, rise, Sterling, Stock markets
Economist: jobless claims at 'unhealthy levels'
Daniel Zhao, senior economist at Glassdoor Senior Economist, says the number of Americans filing new jobless support claims are unhealthily high, having jumped to 742,000 last week.
He also warns of benefit 'exhaustion', as the programmes approved earlier this year to support the economy run out.



"Initial unemployment insurance (UI) claims rose, maintaining unhealthy levels at a time when COVID-19 cases are reaching alarming rates around the country.

Continuing claims dropped below their pre-pandemic record set during the Great Recession, but it's mostly driven by benefit exhaustion for 9 million claimants.
Zhao warns that millions more Americans will lose support, unless Congress acts quickly and approves a new stimulus bill:



The U.S. faces a potentially long winter as millions of Americans have had their unemployment benefits expire and 12 million more face a looming benefits cliff in December.

Congressional failure to act would be an extraordinary blow to unemployed Americans and would affect over half of the 20 million current UI claimants. The summer's steady recovery is now well in the distance as health experts raise the alarm about a tough pandemic winter.

Spiking cases and expired benefits are ingredients for a vicious cycle where Americans are pushed back into the workforce when the virus is already widespread. The combined health and economic crises could echo some of the harsh impacts felt in the spring rather than the steady recovery seen over the summer."
Here's Bloomberg's take on the rise in US jobless claims:



Applications for U.S. state unemployment benefits rose for the first time in five weeks, suggesting the labor-market recovery is slowing amid a surging pandemic and fresh business restrictions.

Initial jobless claims in regular state programs totaled 742,000 in the week ended Nov. 14, up 31,000 from the prior week, Labor Department data showed Thursday.

On an unadjusted basis, the figure increased by about 18,000. The week included Veterans Day, and claims data tend to be more volatile around holidays.
US initial jobless claims rise to 742,000
The number of Americans filing new claims for unemployment benefit has jumped, in a sign that the US economy is struggling.
Some 742,000 new claims for jobless support were filed last week, up from 711,000 in the previous seven days.
That's higher than expected (economists forecast a fall to 707,000), at a time when Covid-19 cases are rising alarmingly in the US.
In addition, another 320,000 people filed unemployment claims through the Pandemic Unemployment Assistance (aimed at freelancers, gig economy workers, and others who don't quality for initial claims).
The number of 'continued claims' (people receiving unemployment help for at least two weeks) has fallen, to 6.372m from 6.801m — but that may show that claimants have exhausted their entitlement, rather than finding new jobs.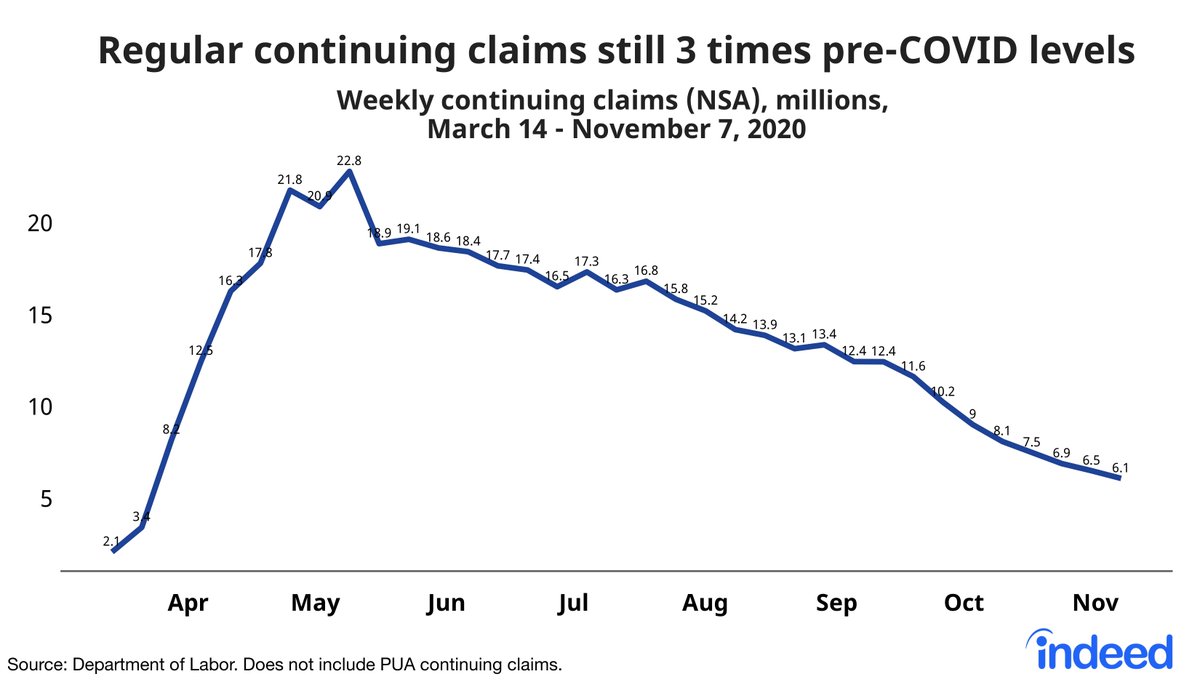 Updated

The head of the IMF, managing director Kristalina Georgieva, has written a blog post ahead of the G20 meeting — hailing the recent progress on vaccines, but warning of more economic pain ahead as Covid-19 cases surge in many countries.



As G20 leaders meet virtually this week, the global economy faces a critical juncture. Countries have started to climb back from the depths of the COVID-19 crisis. But the resurgence in infections in many economies shows just how difficult and uncertain this ascent will be.

The good news is the significant progress on vaccine development. While there are many caveats, this raises hopes of vanquishing the virus that has taken more than a million lives and caused tens of millions of job losses.

The not-so-good news is the severity of the pandemic and its negative economic impact. Last month, the IMF projected a historic global GDP contraction of 4.4 percent in 2020. And we expect a partial and uneven recovery next year, with growth at 5.2 percent.
Updated

IMF: Global recovery may be losing momentum
The International Monetary Fund has warned the recovery from the economic slump earlier this year may be "losing momentum".
In a new surveillance note, or report, ahead of the G20 Leaders' Summit this weekend, the IMF also warns that the Covid-19 crisis will leave behind "a dire legacy of higher inequality and weaker potential output".
The Fund says:



While global economic activity has picked up since June, there are signs that the recovery may be losing momentum, and the crisis is likely to leave deep, unequal scars.

The virus has killed more than a million people and left tens of millions unemployed, especially among low-skilled workers, women, and youth. With infection rates still high in many parts of the world, social distancing continues to hold back momentum in the service sector. Global GDP is now projected to contract 4.4 percent in 2020 and stage an uneven and partial recovery next year.

Moreover, persistent under-employment and school closures are likely to harm human capital; and excess bankruptcies may erode know-how and productivity. The surge in debt will add to challenges down the road. Alongside, uncertainty and risks are exceptionally high.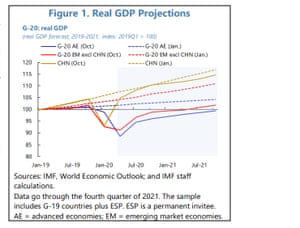 The IMF adds that policies should be focused on ending the crisis quickly and supporting a strong recovery.
That includes collaborating to develop and produce vaccines, additional government spending in some countries, and helping people who lose their jobs in the crisis to gain new skills.
The Fund says:
• End the health crisis. The fastest end to the global crisis lies in multilateral collaboration on the development, production, and distribution of therapies and vaccines, which would lower supply risks and costs for all. Until effective vaccines are widely available, continued social distancing, contact tracing, and use of masks are essential to control the spread of the virus and will allow economic normalization to take place earlier.
• Bridge the economy through the crisis and minimize scarring. Extensive policy support has averted much worse outcomes and will need to be maintained until the crisis is behind us. In some economies, additional fiscal support beyond what has already been announced is warranted. Where fiscal space is insufficient, reallocations within the budget envelope may be necessary. As the impact of the crisis is better understood, focus will gradually need to shift toward (i) retraining and reskilling the jobless to facilitate employment in expanding sectors and (ii) supporting viable or strategic firms to minimize unnecessary bankruptcies. Monetary and financial sector policies should remain accommodative while maintaining stability.
• Bolster medium-term growth and build resilience. With large-scale public and private investment needs to rebuild from this crisis, now is an opportune time to address long-standing challenges. Enhancing access to opportunities, including through digitalization, can broaden inclusion and help lift the global growth potential. Mitigation of climate change, which requires zero net carbon emissions by 2050, can be done in a way that bolsters recovery and creates jobs.
Updated

Ouch. Sales at US department chain Macy's have fallen by a fifth in the last quarter, as the pandemic continues to hurt retailers badly.
The company, which runs the Macy's, Bloomingdale's and Bluemercury chains, has reported net sales of $3.99bn in the three months to 31 October, down from $5.17bn a year ago.
Although digital sales grew 27% year-on-year, that didn't make up for the exodus of customers away from Main Street and the mall since the spring.
Jeff Gennette, chairman and CEO, says this festive season will be 'different':



"Customers have shifted their spending to casual apparel and categories they can enjoy as they stay at home. Several of these categories, including home furnishings, jewelry and fragrance, have generated double-digit sales growth compared to last year."

"Looking to Holiday 2020, we know this year is different. We are committed to bringing the joy of the season to America as we do every year. From next week's Thanksgiving Day Parade to reimagined family gatherings, we will help our customers and their families celebrate in style.
The famous Macy's parade has been reshaped due to Covid. Instead of a 2.5-mile parade with massive crowds, next Thursday's action will mainly take place in and around Herald Square (where Broadway, Sixth Avenue, and 34th Street meet), and you'll have to watch it on TV.
There'll still be big acts, but most performances are being prerecorded, including from the cast of Hamilton, Mean Girls, Ain't Too Proud — The Life and Times of The Temptations and Jagged Little Pill.
As the New York Post points out:



This will be one of the first times during the coronavirus pandemic that Broadway performers will put on a show, after the iconic section of Manhattan was left darkened and desolate due to forced closures.

Other performers on Thanksgiving Day will include the Big Apple Circus, the NYPD Police Band, and the West Point Marching Band with musical appearances from Patti LaBelle, Dolly Parton, Jordin Sparks, Santa Clause and dozens more.
Updated

And here's Reuters take:



The resurgence of the coronavirus pandemic prompted a sharper fall in new orders for British factories this month, a survey showed on Thursday.

The Confederation of British Industry's monthly manufacturing order book balance fell to -40 from October's seven-month high of -34, despite the strongest reading for output since September 2019.
The CBI's industrial trends report also shows that order books at UK factories have been weaker than normal all year:

Here's CBI deputy chief economist Anna Leach on the drop in factory order books in November*



Output volumes have declined at their slowest pace in over a year in our November survey. But order books have softened again as global demand has been hit by intensified lockdowns, and manufacturers have trimmed their expectations,"

"Key to stabilising trading conditions for manufacturing firms will be getting the pandemic under control through further investment in mass testing, ensuring a seamless test and trace system, and an efficient vaccine roll out."
* – to clarify, not October as the earlier post initially said…
Updated

Tom Crotty, Group Director at chemicals firm INEOS, says the drop in UK factory orders shows that manufacturers face a very challenging time:



"These results show what we already know – that manufacturers up and down the country are continuing to face very difficult circumstances as we move into the winter.

"Looking ahead, manufacturers have a crucial role to play in working with the government to build its green industrial revolution, improve productivity and level-up regions. Government support for the sector has therefore been – and will continue to be – vital in keeping firms going through the crisis."
Updated

UK manufacturers hit by falling orders
Just in: UK manufacturers have been hit by a new slump in orders, as the pandemic hits demand for goods.
The CBI's latest health check on British industry found that the "pipeline for activity" – including output expectations and order books – has weakened this month "amidst a second wave of COVID-19 both domestically and abroad".
New orders fell at a faster pace in November, and are sharply below average, according to the CBI's Industrial Trends Survey, which surveyed 277 manufacturers.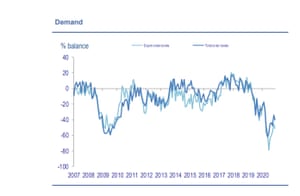 Worryingly, firms also predicted that output will decline at a slightly faster pace over the next three months. That's a gloomier view than a month ago, with manufacturers also predicting output prices to fall over the next three months.
Here are the details:

Total order books (-40%) deteriorated slightly from October (-34%), and remained far below their long-run average (-14%)
Export order books (-51%) worsened marginally from October (-46%) and remain far below their long-run average (-18%)
Output volumes in the three months to November (-6 from -8 in October) fell at their slowest pace since September 2019. Output dropped in 9 out of 17 sub-sectors, with the headline decline primarily led by the aerospace manufacturing sub-sector.
Manufacturers anticipate output to decline at a slightly quicker pace in the next three months (-10), marking a worsening in expectations compared to last month's survey (+15).
[Explanation: the percentages are 'net balances' — the difference between the percentage of companies reporting an increase and those reporting a decrease]
Updated

One in seven UK companies fear collapse
The pandemic has left one in seven UK companies fearing that they will not last until next spring, new research shows, with hospitality firms particularly worried.
The Office for National Statistics has reported that 14% of UK businesses said they had low or no confidence that their business would survive the next three months.
That figure jumps to one-in-three firms in the food or accommodation sector, such as pubs, restaurants and hotels.
That's an alarming signal of the economic damage being caused by the second wave of Covid-19 cases.
The ONS explains:



Across all industries, of businesses that have not permanently ceased trading, 40% had moderate confidence that their business would survive the next three months, and 14% had low or no confidence of the same. Conversely, 40% said that they had high confidence.

The accommodation and food service activities industry had the highest percentage of businesses that had no or low confidence that their business would survive the next three months, at 34%. This was followed by the administrative and support service activities industry, at 18%.
The ONS also reports that nearly one in ten workers are still furloughed, with more than quarter working from home:
9% of the workforce were on partial or full furlough leave
28% of the workforce were working remotely instead of at their normal place of work
60% of the workforce were working at their normal place of work
Mid-morning update: Markets still down
European stock markets are still skulking in the red.
The FTSE 100 remains down around 1%, or 63 points, at 6321. Aerospace engineering firm Melrose (-5%) and jet engine maker Rolls-Royce (-3%), have joined the top fallers, which usually indicates anxiety over the pandemic, alongside the oil companies and property firms.
Chemicals firm Johnson Matthey are also down around 5%, after posting an 88% fall in pre-tax profits (partly due to weak demand for automotive catalysts during the pandemic).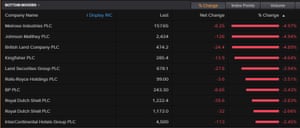 France's CAC index is down 0.85%, with Germany's DAX off 1%, as the risk-off mood continues.
AJ Bell investment director Russ Mould explains that concerns over the pandemic, especially in the US, are rising — with Brexit also nagging at the markets:



"The report on the AstraZeneca and University of Oxford vaccine was less likely to move the dial as, unlike the other major vaccine updates so far, there was no detail on its efficacy.

"And while the prospects for the second half of 2021 are looking more encouraging thanks to advances made by science, the here and now is increasingly difficult with New York announcing more severe restrictions amid a surge in Covid-19 cases across America.

"With Donald Trump continuing to stubbornly resist calls to concede to the projected winner of the Presidential election Joe Biden, it appears little is being done at a federal level to address the second wave of the pandemic in the US.

"Brexit uncertainty continues to buzz in the background like a low-level headache and oil prices are giving back some of their recent gains ahead of a crunch meeting of OPEC at the end of this month. We could be in for a challenging few weeks."