UK borrowing falls in April, to £31.7bn, as Covid-19 costs remain high – business live | Business
cramzine
0 Comments
317bn, April, borrowing, Business, costs, Covid19, Economics, falls, FTSE, High, live, remain, Stock markets, UK news, US news, World news

12:06
Kwasi Kwarteng is also asked about how he can square the issue of supporting steel firms move to 'green' steel, while not using subsidies to prop up unsustainable companies.
Kwarteng says the government has a 'strategic interest' in maintaining steel, like all G7 nations, so once you're committed you need to provide support when the market turns against it.
Q: So which other industries are strategic? You'll start with steel, and then other companies will come to your door. Isn't it open season?
Kwarteng reiterates that all steel industries are supported by their national governments in some way, and that there's a strategic case for steel in the UK.

11:48
Kwarteng: Nationalisation of steel is unlikely
Q: As UK steel is a strategic sector, is nationalisation a viable business option, asks Labour MP Charlotte Nichols.
Kwasi Kwarteng says he looks at all options. But nationalisation is an extreme occurrence that is unlikely to happen.
Kwarteng says this view has been "vindicated" by the fact that GFG have put some assets up for sale, so we must take Mr Gupta at his word, and see if he can refinance GFG as he claims.
I'm glad to see he's doing that, the secretary of state says.
There is a case for UK-produced steel, on the basis of heading towards decarbonisation, Kwarteng adds.
Q: So is nationalisation ruled out?
Nothing is ruled in or out, but nationalisation is the least likely option, Kwarteng replies.
Updated


11:40
Alexander Stafford, MP for Rother Valley, who has many steel workers in his constituency, asks how viable Liberty Steel's sites are in the UK.
Kwasi Kwarteng says the GFG's assets being put for sale (including the aerospace steel business in Stocksbridge, Yorkshire) are fundamentally good assets with skilled, dedicated workers and very experienced managers.
Liberty's problem is the financial engineering at GFG, the leverage and debt that they've incurred, which put a lot of pressure on those businesses.
Without that, there is healthy interest in the assets, and they have a viable future.

11:30
Q: GFG Alliance have received many loans, grants and guarantees from other governments and agencies, including in Scotland, Wales, Italy, France and Australia — why do other politicians fall over themselves to give this man (Sanjeev Gupta) so much money?
Kwasi Kwarteng says the Scottish government are very exposed and have given millions to Gupta's group (including a £7m loan which, the FT reports was transferred elsewhere in GFG).
If someone says they have the magic formula to keep steel jobs, there is a temptation for government involvement, Kwarteng says.
But when Liberty Steel asked for £170m, Kwarteng had concerns about its opacity, and whether the money would stay in the UK, so he turned it down. Other politicians should learn those lessons, he adds.

11:18
Kwarteng: We didn't know BoE concerns about Wyelands Bank
Conservative MP Richard Fuller probes Kwasi Kwarteng about the Bank of England's concerns over Sanjeev Gupta's Wyeland's Bank.
Q: Yesterday, the Bank of England governor said it began its first investigation into Wyelands in Q1 2019. GFG bought the UK arm of Nigerian bank Diamond in April 2019 – why was that permitted?
Business secretary Kwarteng says that if it's a secret investigation, it won't be widely known, so the bank can keep operating.
It's easy with hindsight to say why didn't we do this, or that, but at the time none of these concerns were being made public, he insists.

11:11
Q: Will the UK steel assets being sold by GFG Alliance actually let it repay Credit Suisse the £1.2bn it owes in full, and complete the refinancing of its operations?
Kwarteng says it depends on the terms of the loan. It may not be due immediately, and in any case it could be restructured to be repaid over a longer time. The government are monitoring the situation very closely.

11:04
Q: Are there any lessons for the British Business Bank to learn from the loans approved to Liberty Steel?
Kwasi Kwarteng says there are. He says the government wanted to keep liquidity going, and businesses going, by accrediting firms so they could borrow from banks to keep afloat through the crisis.
Kwarteng repeats that the Bank of England now has concerns about Wyelands Bank which it didn't have last year (but again, BoE governor Bailey told MPs yesterday that concerns first emerged in late 2018….).

10:56
Kwarteng: Vindicated over turning down Liberty Steel's £170m bailout
Kwasi Kwarteng, Secretary of State for Business, Energy and Industrial Strategy, is testifying to the Business, Energy and Industrial Strategy Committee on its inquiry into the Liberty Steel crisis, and the future of UK steel.
BEIS are investigating why the steel industry moves from crisis to crisis, and also the role of collapsed supply chain finance firm Greensill Capital in the crisis at Sanjeev Gupta's GFG Alliance.
Q: GFG said yesterday they are planning to sell Liberty Steel assets in Yorkshire and the West Midlands. They've had multiple owners in the past, so how do we ensure that a future owner doesn't end up having to close or sell them again?
Kwarteng says he wants the UK steel industry to focus on a new decarbonisation strategy. That's why he's brought back the UK Steel council – so government and industry can work together towards net zero. This will help stabilise the situation.
Q: The Governor of the Bank of England told the Treasury Committee yesterday that Sanjeev Gupta's Wyelands Bank was under investigation by the Prudential Regulation Authority, the National Crime Agency and the Serious Fraud office — yet £46m of taxpayer-backed Covid loans were provided to GFG Alliance. How did that happen?
Kwarteng says there weren't concerns about this particular bank when the British Business Bank was disbursing loans, early in the pandemic.
[BoE governor Andrew Bailey told MPs that the PRA notified the NCA in October or November 2019, with the SFO then notified in February 2020]
Kwarteng adds that these concerns over GFG Alliance are why he didn't give a £170m bailout to Liberty Steel when they asked for help:



It was this opacity over their corporate governance, this difficulty to understand the actual full nature of their businesses, that prevented me and my officials from giving them taxpayers' money.

Dare I say it, we were vindicated in our approach.

10:26
The slump in UK-EU goods trade this year shows the impact of Brexit, says John Springford of the Centre for European Reform:
Political scientist Nicolai von Ondarza says the difference with non-EU goods trade is 'striking':
David Henig, head of UK Trade Forum, says it shows that, as predicted, creating new trade barriers reduces trade:

10:06
UK goods trade with EU falls below rest of world
The UK's total trade in goods with the European Union has fallen below its trade with the rest of the world, following Brexit and the Covid-19 pandemic.
Total trade in goods with EU countries fell by over 23% in January-March 2021, compared to the same period in 2018, while goods trade with non-EU countries only declined by 0.8%, a new report from the Office for National Statistic shows.
And exports to Ireland saw the greatest proportionate fall out of the UK's top exporting partners after the EU transition period, the ONS adds.
The ONS used 2018's data to provide a stable comparison before the Brexit transition period began.
And it shows a clear plunge in trade with the EU… although the stats body says it is too early to judge the impact of the transition period, due to the economic disruption of the pandemic.
In the last quarter alone, the UK's total trade in goods with EU countries decreased by 20.3%, but only fell 0.4% with the rest of the world, as this chart shows:
The ONS says bilateral stockpiling may have boosted UK-EU trade in the last quarter of 2020 as firms on both sides of the channel prepared for the end of the transition deal (and the threat of a no-deal Brexit).
The ONS also points out that the number of businesses reporting that the end of the EU transition period was their main importing or exporting challenge has risen this year.
Exports of goods to Ireland almost halved in January after the withdrawal agreement ended, the report flags: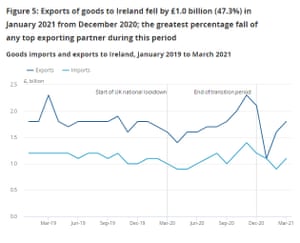 The report also found that:
Imports from Germany have declined since April 2019, coinciding with increased uncertainty around EU exit and, later in 2020, the coronavirus (COVID-19) pandemic.
The UK has imported more goods from China than from any other country since Quarter 2 (April to June) 2020.
The early impact of the pandemic seen in Quarter 1 2020 disproportionately affected exports to the United States; decreases in exports to the United States in Quarter 1 2021 are aligned with decreases seen across non-EU countries.
The ONS adds:



We have seen trade with non-EU countries overtake trade with EU countries for the first time in Quarter 1 2021. However, trade was already at depressed levels because of the ongoing pandemic and recession.

It is therefore too early to assess the extent to which the transition period reflects short-term trade disruption or longer-term supply chain adjustments.
Updated