UK economy in 'unprecedented downturn' as activity keeps falling – business live | Business
cramzine
0 Comments
Activity, Business, China, Coronavirus outbreak, downturn, Economics, economy, falling, FTSE, live, Stock markets, unprecedented
Duncan Brock, Group Director at CIPS, fears that a second wave of Covid-19 infections could undermine hopes of a recovery (sending the PMI skittering back down to April's record lows).



The minor easing in the downturn compared to last month's figures only serves to highlight the depth of the fall in April's output and does not signal that the pathway is clear for an improvement in the manufacturing and services sectors.

"This month saw another steep fall in overall business activity, surpassing for the third time the rates of decline seen during the global financial crisis in 2009. No new orders, premises shut down and furloughed staff unable to return to work were at the heart of the desolation as business struggled to continue with two hands tied behind their back.

Even some heavy discounting by companies did little to offset their losses which are likely to be just the tip of the iceberg with businesses failing in increasing numbers. "As the sectors prepare for a further easing in restrictions and becoming covid-ready for staff to return, the danger on the horizon is a second wave of infections threatening the health of the nation and dampening consumer confidence still further.

In addition, if this intensity of job cuts continues, purse strings will be drawn tightly shut and spending severely curtailed, putting further pressure on the UK economy and ensuring any recovery is many years into the future."
Here's Andrew Wishart of Capital Economics on today's UK purchasing managers survey:



Taken literally the fact the flash composite PMI remained well below the no-change level of 50 in May suggests that activity fell further as it should compare activity to the previous month. But many respondents appear to be answering the alternate question of "how is activity compared to normal?". So instead it appears to be suggesting that the low point for activity was reached in April, but that it is still well below normal in May.

The recovery in the manufacturing PMI from 32.6 to 40.6 is probably a sign that some industrial plants have reopened on government advice. And the services index recovered from 13.4 to 27.8, in line with anecdotal evidence that firms have restarted limited operations, such as take-out options from restaurants.
PMI surveys crush hopes of V-shaped recovery
A few weeks ago, there was lots of talk about V-shaped recoveries.
Economists hoped that growth would bounce back sharply from the initial shock of Covid-19, as companies rapidly caught up on lost business.
It always seemed a little optimistic — no-one is going to get two haircuts, order three restaurant specials or watch four football matches in a day once the crisis is over (but lets not rule out two specials….)
The message from today's PMI surveys is clear — businesses across the eurozone and UK have suffered major damage under the lockdown, and the downturn is not over.
Neil Birrell, Chief Investment Officer at Premier Miton, says the recovery is some way away:



"The PMI data in from the UK and Europe suggests that the outlook is improving. That is to be expected, as the surveys are taken mid-month and economies were more open than they were in mid-April. But with UK Composite PMI at 28.9, albeit up from 13.8 in April, and the Eurozone Composite PMI reading at 30.5 the outlook is still grim. Markets may well take this as a sign that the nadir has been reached, although recovery is some time off."
James Smith and Bert Colijn of ING agree that the recovery certainly won't resemble a perky V.
CBI chief economist Alpesh Paleja agrees that May is a 'pretty awful' month for businesses:
UK PMIs show economy still shrinking
Newsflash: Britain's economy continued to suffer an unprecedented contraction this month.
Both the manufacturing and service sectors are shrinking extremely rapidly as the lockdown continues, according to the latest survey of purchasing managers by IHS Markit.
But there are also signs that the pace of the downturn is easing a little.
Here's the details of the PMI reports:
UK Composite Output Index for May: 28.9, up from 13.8 in April
UK flash manufacturing PMI: 40.6, up from 32.9
UK services flash PMI: 27.8, up from 12.3
Any reading below 50 shows a fall in activity, so the UK economy certainly hasn't returned to growth yet. It's simply shrinking at a slower pace.
Chris Williamson, chief business economist at IHS Markit, explains:



"The UK economy remains firmly locked in an unprecedented downturn, with business activity and employment continuing to slump at alarming rates in May. Although the pace of decline has eased since April's record collapse, May saw the second largest monthly falls in output and jobs seen over the survey's 22-year history, the rates of decline continuing to far exceed anything seen previously.

Travel and tourism firms, hotels, restaurants and producers of consumer goods such as clothing were again the hardest hit, reflecting virus containment measures, but this remains a shockingly broad-based downturn with very few companies left unscathed by the COVID-19 pandemic.
UK companies reported that activity was painfully low this month, due to business shutdowns, cancellations of customer orders and a general slump in demand amid the coronavirus pandemic.
Firms also suffered another rapid declines in new work and employment across the UK private sector, nearly as bad as the record lows seen in April.
These graphs highlight just how sharply the UK economy has shrunk since the pandemic started:
Updated

Although a PMI of 30.5 is better than one of 13.6, it's still extremely weak – showing a profound economic downturn this month.
Chris Williamson, chief business economist at IHS Markit, reckons today's PMI surveys show that the downturn is bottoming out:



"The eurozone saw a further collapse of business activity in May but the survey data at least brought reassuring signs that the downturn likely bottomed out in April.

Second quarter GDP is still likely to fall at an unprecedented rate, down by around 10% compared to the first quarter, but the rise in the PMI adds to expectations that the downturn should continue to moderate as lockdown restrictions are further lifted heading into the summer.

All eurozone countries eased their COVID-19 containment measures to some extent in May, helping to moderate the overall rate of economic decline.

However, while a further loosening of restrictions is anticipated in coming months, some measures to contain the virus are likely to remain in place until an effective treatment or vaccine is found.
Eurozone PMI rises, but still grim
Newsflash: The eurozone economy continues to suffer an unprecedented decline this month, although the slump is easing as some Covid-19 lockdown measures are relaxed.
The Eurozone Composite PMI, which tracks activity across the euro area, has risen to 30.5 in May from a record low of 13.6 in April.
That still shows an extremely sharp downturn — worse than at any stage of the financial crisis. Any reading below 50 indicates the economy shrank.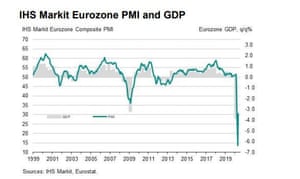 Data firm Markit, which compiles the PMI, says:



The eurozone economy remained stuck in its deepest downturn ever recorded in May due to ongoing measures taken to control the coronavirus disease 2019 (COVID-19) outbreak, according to provisional PMI survey data.

However, the rate of decline eased as parts of the economy started to emerge from lockdowns.
Companies reported that they were cutting jobs at an unprecedented rate, with output falling, supply chains disrupted, and many non-essential businesses closing.
Germany again saw a modestly milder downturn than France while the rest of the eurozone saw the steepest decline.
And although bosses are more optimistic than in April, confidence is still extraordinarily low.
Japan has suffered its worst drop in exports since the financial crisis over a decade ago , denting hopes that the world economy could be turning the corner.
Japanese exports slumped by almost 22% year-on-year in April, led by tumbling demand for cars and industrial goods.
Exports to the US were down 37.8%, with auto exports down by two-thirds.
Shares in budget airline easyJet have jumped 5% in early trading, after it announced it will resume some flights from mid-June.
Face masks will be compulsory, as the airline tries to operate while obeying physical distancing rules.
My colleague Jo Partridge explains:



The airline initially will restart domestic routes in the UK and France where it believes "there is sufficient customer demand to support profitable flying". The carrier will add further routes in the following weeks, as and when passenger demand rises and lockdown measures ease further across Europe.

The company will introduce enhanced cleaning and disinfection of its aircraft, will make disinfectant wipes and hand sanitiser available on board, and will require all passengers and cabin crew, as well as ground crew, to wear masks. There will be no food service onboard, initially.
Whitbread launches £1bn rights issue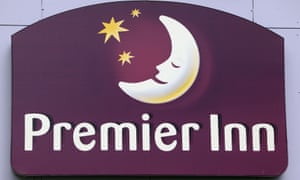 Hotels group Whitbread are the top faller in London, down over 16% after announcing a £1bn rights issue.
This will shore up Whitbread's finances to handle the Covid-19 recession.
It told investors that the funds will give it the "confidence and flexibility" to keep operating and invest in the UK and Germany. The firm reckons there are opportunities to expand, as "its budget-branded and independent competitors are expected to be weakened by the COVID-19 pandemic"
More ominously, the money will also provide "further liquidity headroom in the event of a resurgence of the COVID-19 pandemic".
Investors can buy one new share, at £15, for each two they already own. That's a 37.4% discount on the "theoretical ex-rights price of £2,395". Shares in Whitbread have fallen smartly to this level, down 440p at £24.01.
Whitbread, which owns Premier Inns, had entered the crisis with £300m in the bank and a £950m revolving credit facility. But the lockdown means it faces a "very material loss of revenue" for the current financial year, having already furloughed staff and shut hotels.
Anxiety over US-China relations is weighing on the London stock market.
The FTSE 100 index has dropped by 50 points, or 0.85%, in early trading to 6,016. France and Germany are both down over 1%.
Consumer-focused companies, technology firms, and financial groups are among the fallers — reflecting worries over the global economic outlook.

Overnight, the US intensified its criticism of China by issuing a new report which criticises Beijing activities.
Associated Press has the details:



Beyond its hard-hitting rhetoric against China over its handling of the coronavirus, the White House has issued a broad-scale attack on Beijing's predatory economic policies, military buildup, disinformation campaigns and human rights violations.

The 20-page report does not signal a shift in U.S. policy, according to a senior administration official, who was not authorized to publicly discuss the report and spoke only on condition of anonymity, but it expands on Trump's get-tough rhetoric that he hopes will resonate with voters angry about China's handling of the disease outbreak that has left tens of millions of Americans out of work.
US secretary of state Mike Pompeo has also launched a stinging attack on China's government, calling it a "brutal, authoritarian regime" that is "ideologically and politically hostile to free nations":
Introduction: Trump's swipe at Xi worries markets
Good morning, and welcome to our rolling coverage of the world economy, the financial markets, the eurozone and business.
Just as anxiety over the Covid-19 pandemic was easing, the prospect of a new US-China trade dispute is looming over the markets again.
Donald Trump has alarmed investors with another stinging attack on Beijing's handling of the pandemic — accusing them of spreading "pain and carnage" around the world.
He also appeared to single out president Xi Jinping personally, tweeting that "it all comes from the top" — fuelling concerns that the trade deal agreed last year between the two sides could crumble.
With an eye on November's election, Trump also claimed that his democratic rival Joe Biden was now China's preferred candidate.
With world trade already shrinking alarmingly under the pandemic, the world economy certainly doesn't need rising tensions between these two powers.
Trump's blast has rather dampened the mood in the markets, where shares yesterday hit their highest levels since early March.
China's CSI 300 index has dipped 0.5%, and European stock markets have just dropped 1% at the start of trading.
Fiona Cincotta of City Index explains:



President Trump escalated rhetoric against China pointing the finger at Xi Jinping for a disinformation campaign and propaganda attacks on both the US and Europe.

Whilst Trump playing the blame game with China is nothing news, this is the first time that he has taken direct aim at Xi Jinping. Previously he has always maintained a strong relationship between the two. This change of tone is making the markets sit up and listen. Riskier assets are out of favour and flows into safe havens are on the rise.
Also coming up today
The latest surveys of purchasing managers in the UK, US and eurozone will show how much economic damage is being caused by the lockdown – and whether business leaders are any less pessimistic about the future. These PMI reports are expected to be better than April's horror show, but still show that economies are shrinking.
And brace for another shocking US unemployment report – the weekly 'initial claims' survey is expected to show that another 2.4 million Americans lost their jobs last week.
The agenda
9am BST: Eurozone 'flash' manufacturing and services PMIs for May
9.30am BST: UK 'flash' manufacturing and services PMIs for May
11am BST: CBI's industrial trends survey of UK manufacturing
1.30pm BST: US weekly jobless claims report
3pm BST: US 'flash' manufacturing and services PMIs for May
Updated